About Us
We are specialists of quality ornamental flowering pot plants and perennials in a comprehensive range of varieties for all seasons.
In addition we grow pack / tray bedding and patio + basket plants for Spring / Summer / Autumn availability.
We also grow and supply retail vegetables selection in 9 pack and 10cm pots.
Our minimum delivery is 2 trolleys of which can be a mixed selection.
Tillage Nurseries delivers on a weekly basis to all areas of northern England. Deliveries can be made further afield upon request and enquiry.To find out the weekly deliver areas tillage nurseries covers please proceed to log in to the nursery shop or contact our sales team with your enquiry.

---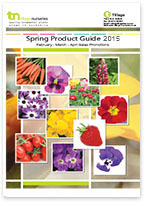 Spring Product Guide
February - March - April
Sales Promotion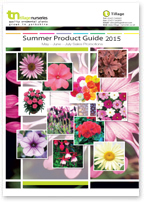 Summer Product Guide
May - June - July
Sales Promotion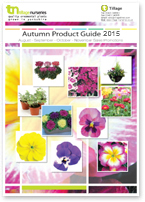 Autumn Product Guide
August - September - October - November
Sales Promotion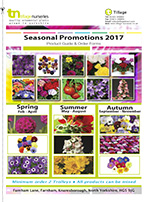 Seasonal Promotions Guide
We are delighted to offer you our excellent product guides. Please contact us with your request.
As a family run business with more than 50 years of growth and success, we have a long-established reputation for efficiency, integrity and reliability. We have prospered by meeting our customers' needs with an innovative approach, outstanding service, expert advice and quality products at a competitive price.
Whatever your requirements, we look forward to working with you.
Regards
Sales Director
Boyd Batchelor
Specialist growers of:

Alpines

Antirhimum

Argyranthemum Frutescens

Autumn/Winter Bedding

Begonias

Carnations

Confetti Garden

Cosmos

Cyclamen

Dahlias

Fuchsias

Gazanias

Geraniums

Hanging Baskets

Heliotrope

Lavendula

New Guineas

Osteospernum

Panseys

Patio and Basket Plants

Primroses

Senetti

Spring Bedding

Spring Flowering Perennials

Summer Bedding

Summer/Autumn Flowering Perennials

Tomatoes

Trixi Garden

Vegetables

Violas